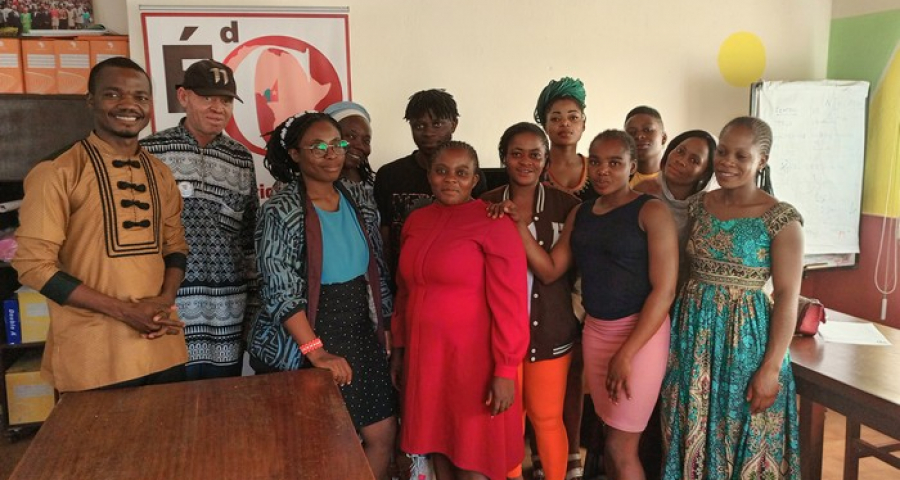 January 24, 2023

eoc-admin

0
November 2022 was an eventful month for the Association Action pour l'Economie de Communion en Afrique Centrale (AECAC). 40 young men and women Internally Displaced Persons (IDPs) living in Dschang, Bafoussam and Yaoundé, from the crisis in the North West and South West regions of Cameroon took part in the Financial Education Training Sessions.
Yaoundé, the Capital City of Cameroon, is an excellent place to experience the social transformation happening in the Country, with its many faces and complexities, it is home to hundred thousands of Internally Displaced Persons since the so called Anglophone crisis in Northwest and Southwest regions. Just like other cities of the country, Dschang, Bafoussam too are adapting to the addition of hundreds of the displaced seeking safety. In these Cities people have the possibility to "rebuild" their lives, to regroup, build new identities and why not forge socio-political awareness that aim to bring peace back to places they had to abandon because of conflict.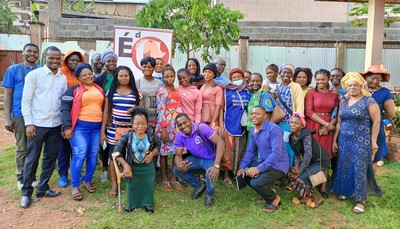 It is in this context that the Association Action pour l'Economie de Communion en Afrique Centrale (AECAC) promoted a project that proposes means for the empowerment and socio-economic insertion of Internally Displaced Persons, so that they can take care of their vital needs in their welcoming towns and cities.
Why financial education and business management?
The crisis led many to abandon not only their homes and towns, but also their occupation. And arriving in their "new homes", to cope with such issues as sustainability, lodging and school fees, beneficiaries of the project run different small business for their income generating activities.The training therefore, focused on Internally Displaced Persons (IDPs) who have already skills in sewing, hairdressing, barbershops, shoe making and others.
Each session started with story sharing. These touching stories of resilience, courage and determination provided the basis for the training. Kennedy studied building and construction, it's not easy to find job on building sites, and he is ready to move to any town in the region where he finds a job. Derrick has a barber shop: "I was at university, before completing my studies the crisis broke out. I borrowed some money to open a barber shop. Now I wish I could have enough income to increase my business…"
Through a lively dialogue between the trainees and the facilitators, the training took shape. Gently and skillfully the facilitators Steve Azeumo, and Tiku Martin introduced the beneficiaries into the management of small businesses, financially accompanying them in their activities, on technical and psycho-social levels. Skill learning took place as well, through sincere and open conversation, listening intensely to the real needs, desires, dreams and aspirations of beneficiaries.
Sonita is 18 years old, she hasn't been in school for the last 2 years, since her arrival to Yaoundé. She does marking on traditional attires for her upkeep, but her strong desire is to go back to school. Her request to the project is a support to go back to school in the afternoon so that in the morning she can work for her upkeep.
In other cases, the dialogue opened up to the need of advocacy, this was the case of Bertila a Nurse student, mother of 3 young children. For a living, and to afford her children's school fees, she does beadwork; that is used to create accessories like necklaces, bracelets, pendants, anklets, belts as well as home décor and a number of household. For the completion of her Nursing course, she needs a location for internship but she cannot afford to pay the fee. Through its networks, the project will support her get a placement for internship and realize her dream of becoming a registered Nurse.
Other pressing issues underlined were: discipline, savings microcredits finance and bank accounts. Assunta has a small shop. The facilitation brought forth the importance of business license so as to follow the rules and regulations of the City Council. She concluded: "I need technical support".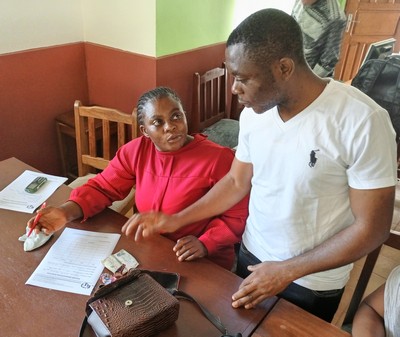 At the conclusion some beneficiaries of the first phase of the project shared their success stories. Cyril lives in Yaoundé, during the first phase of the project he learned shoe-making. He now has a shop and has a large customer community through social media. His mother too shared her moving story of how this job up to now, helps cater for the needs of the family.
Mary, a teacher by profession, lives in Dschang with her family. During the first phase of the project she learned a few skills: making soap and crocheting. To date, her market has expanded beyond Cameroon.
The training ended successfully, each beneficiary was encouraged to make his/her business plan, a skill that was appreciated, to focus and be results orientated.
Launching the beneficiaries into the deep and core foundation of the projects: communion! They were encouraged "to embark on the path of sharing not forgetting that God is our invisible partner, who calls each one to build bonds of fraternity where ever we are, even as we struggle to make a living through small businesses".
As Bertila put it: "this training session was about business and financial education but it was also an emotional support session".